Community Service Projects
The Tax Goddess is dedicated to helping our community grow stronger financially and beyond. We are always on the lookout for an animal related charity to help out in these tough times.  Our firm is filled with animal lovers, dog, cat, horse, and all the other versions of mans best friend.

~~~~~~~~~~~~~~~~~~~~~~~~~~~~~~~~~~~~~~~~~~~~~~~~~~~~~~~~~~~~~~~~~~~~~~~~~~~~~~~~~~~~~~~~
4th Quarter 2011 & 1st Quarter 2012 (It's a BIG Goal! Help us make it happen!)
For this quarter, we are asking for donations and help for our goal of reaching a $1500 contribution to the Arizona Humane Society.  Please click on this link make your contribution today!
A message from Shauna Wekherlien, the Tax Goddess
Tax Goddess Business Services, PC is working towards raising money for the Arizona Humane Society. We are also taking, besides money, clean extra towels, blankets, and dog beds / toys so that we can bring them to the Humane Society after April 15th, 2012.
Please remember that every penny helps!  A $5 or $500 donation would be great!
Anyone / business who donates will be recognized on our homepage for the entire month of May 2012 for recognition of their efforts for our Arizona dogs.
$50 (or $4/month):
Provides food and toys for two animals for a week.
The animals who find themselves in our shelters enter hungry, scared and confused. You can make their experience the best it can be while they wait patiently for their forever family. $50 provides food and toys for one cat and one dog for a week.
$150 (or $13/month):
Grooms three neglected animals with severely matted coats.
Many neglected animals come to us with severely matted coats which can be painful and serve as a breeding ground for both infection and infestation, making the need for a "mercy groom" a necessity, not a luxury. $150 pays for three animals to undergo special grooming procedures to alleviate pain. 
$300 (or $25/month):
Covers the average cost to care for animal until he goes up for adoption. The spring and summer months are canine and feline breeding seasons, and AHS receives as many as 200 animals each day, at an average cost of $300 for spay/neuter surgery, vaccinations, food and toys for a healthy pet until he is adopted. Your donation of $300 will change the life of a homeless animal.
$500 (or $42/month): Fills the gas tank of one EAMTTM rescue vehicle for a week.Arizona Humane Society Emergency Animal Medical TechniciansTM, or EAMTsTM, are trained to handle all aspects of both rescue and triage of animal victims. The EAMT program is the only one of its kind in the state of Arizona, responding to about 22,000 calls annually. $500 fills the gas tank of an EAMT field truck for a week, making it possible to rescue suffering animals throughout the Valley.$750 (or $63/month): Spays or neuters 10 dogs or 25 cats. The Phoenix metro area is home to one of the most extreme pet overpopulation crises in the United States. While the Arizona Humane Society spays or neuters every animal who comes through our doors, it is not enough. We need our community to help alleviate this problem. Your donation of $750 funds the spay/neuter surgery of 10 dogs or 25 cats, which will undoubtedly make a dramatic impact on the pet overpopulation crisis.
$1,000 (or $83/month): Saves the life of one severely injured animal. Unfortunately, many animals rescued by our EAMTsTM suffer from abuse, neglect or trauma that requires special treatment in our Second Chance Animal HospitalTM. $1,000 pays for the average surgery and intensive care of an animal in dire need of advanced, life-saving medical treatment.
$2,500 (or $208/month): Buys medication for all animals in the Second Chance Animal HospitalTM for one week.Our Second Chance Animal Hospital, the largest shelter-based trauma center in the southwest, uses advanced technology and equipment to provide superior care to our sick and injured shelter pets. With your donation of $2,500, we are truly able to give homeless, injured pets a second chance at a good life.
Please remember to click on this link make your contribution today!
~~~~~~~~~~~~~~~~~~~~~~~~~~~~~~~~~~~~~~~~~~~~~~~~~~~~~~~~~~~~~~~~~~~~~~~~~~~~~~~~~~~~~~~~~~~~
2nd Quarter 2011
This quarter we decided to help the Arizona Humane Society with their summer bucket drive to help thirsty pets make it through the summer.
We collected over 300 buckets from our clients and community and raised over $300 for this project. Here's some photos and a quick video.
[column size="1-2]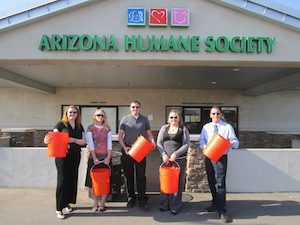 [/column] [column size="1-2″ last="1″]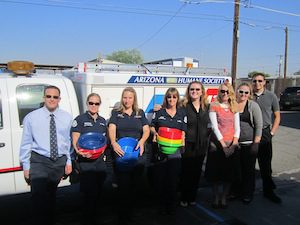 [/column] Stay tuned for information on how you can help us with our 3rd quarter food drive service project!
Got an idea for how we can help out our neighbors? Email shauna@taxgoddess.com with your suggestions!