Tax Goddess Business Services® is dedicated to helping our community grow stronger financially and beyond. We are focused on education-related causes, as well as animal-related charities.
Tax Goddess Scholarship Fund
The Tax Goddess supports school choice with income tax credit donations, which helps Arizona tax payers save money and gives us a voice in where our tax dollars go. We are working with AZ4Education, a certified Arizona STO that has developed a process where we are able to create a tuition scholarship group fund.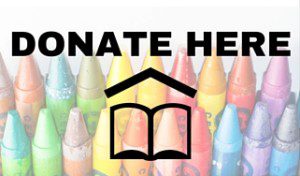 Save money on your taxes: 
Since 1998 the Arizona Private School Tax Credit Law, ARS 43-1089 has allowed residents to donate income taxes to a school tuition organization (STO) and receive a tax credit, reducing their individual tax liability. This was expanded later to include C, S corporations and insurance companies that do business in Arizona.
If you would like to make a tax credit donation to the Tax Goddess Scholarship fund, please select the Donate Here button. In the form, choose the "General Fund" under donation details and indicate Tax Goddess Scholarship for "How did you hear about us."
A few reasons why people support school choice with AZ4Education: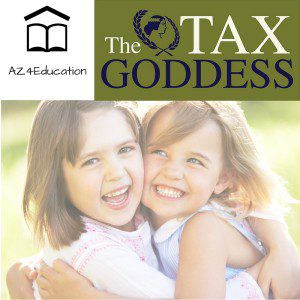 Our primary goal is to help all students get the best education they deserve

We are a 501(c)(3), non-profit organization

We work with all qualified private K-12 schools in Arizona

Our online registration & application process is free and easy: apply once per school year

We provide an online dashboard to view application status, award/donation history & more
To learn more about AZ4Education, please go to www.AZ4Education.org. You can also register to become a member of the community here.
Apply for a scholarship:
If you have a child who is enrolled in a K-12 private Arizona school and would like to submit your child's name or school to be considered for a tuition scholarship, please read on.
1.) Please send us the name of the child so that we may add them to our group fund recommendation list.
2.) Go to AZ4Education.org, register and submit an application.
Note that this is neither a guarantee of award nor a commitment to award at a later date. All scholarship awards are determined solely by AZ4Education. If you have questions about the process or application status, please direct them to AZ4Education.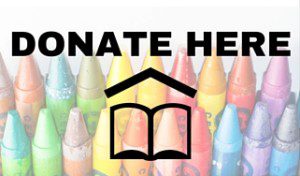 Thank you for supporting school choice and making a difference in so many lives!
Animal Related Charities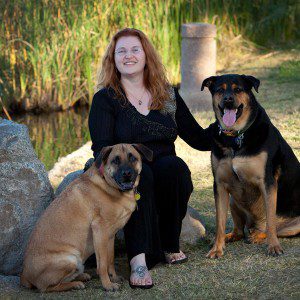 Our firm is filled with animal lovers – dogs, cats, horses, and all the other pets. In fact, at any given time, there is probably at least one pet present while the staff is in the office. 
Every year, Tax Goddess Business Services® donates thousands of dollars to the following organizations:

Other Community Involvement