Payroll processing is an integral aspect of every business's internal operations. You want to make your employees happy and paid fairly according to work done.However, as important as it is, payroll processing is quite complicated, taxing, time-consuming and sensitive. It involves time tracking, calculating deductions and bonuses, and being mindful of the law.

This is why many businesses use a payroll specialist. It saves them much time and guarantees accuracy in their bookkeeping and payroll processes.
Our bookkeeping and payroll services at Tax Goddess are trusted by clients from across the country who seek payroll outsourcing services.
Our team of expert bookkeeping and payroll specialists is always available to efficiently handle your payroll while you focus on other business activities.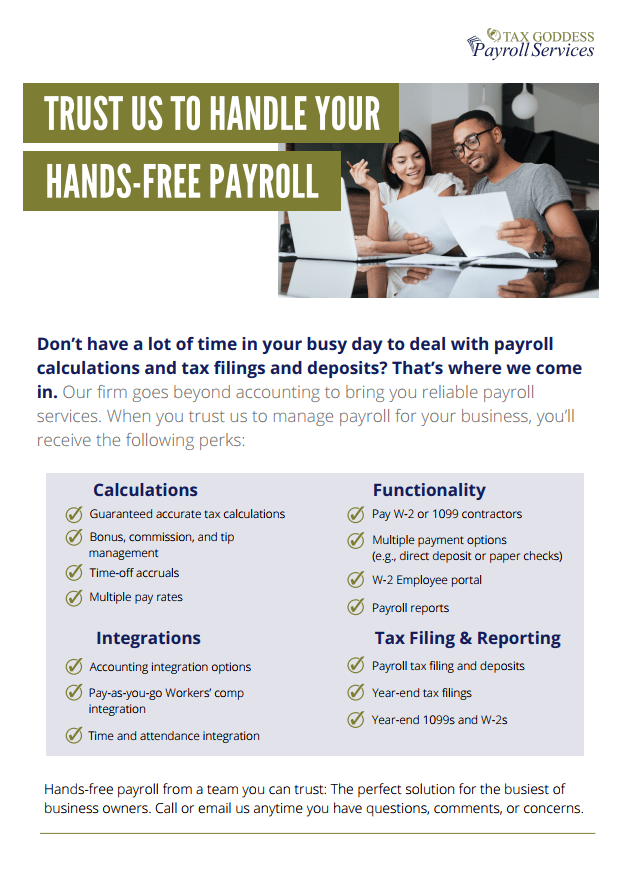 Our Services Include:
All quarterly and annual filing reports

Payment of the taxes electronically with direct funding to the government and state agencies

Payment of employees & contractors using direct deposit

W-2 and 1099 forms

Full access to your company payroll records and information online at no additional cost

Accrual of holiday and sick time

Workers Compensation

Multi-state Training for you and your staff on our online program to help you reduce your payroll costs, (if you so desire! Tax Goddess Business Services® is always more than happy to process your payroll for you – just ask and we can build this into your monthly maintenance package!)
Tax Goddess Business Services® offers a FREE 15-minute consultation to review your payroll needs and put together a package that is right for you!